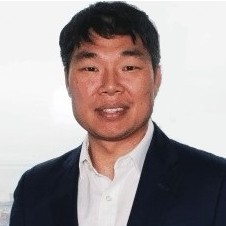 Young Hong
Third Party Management Compliance Advisor , Capital One
Veteran: US Navy
Class of 2023
Fresh out of 25 years in the U.S. Navy, Young Hong (MSCRS '23) launched his new life and career by almost simultaneously beginning a job in the private sector and the master's program in cybersecurity risk and strategy at NYU Law and NYU Tandon. "As I transitioned from active duty earlier this year, it was perfect timing for me to return to academics and build my professional network," he explained.
Veterans in Cybersecurity
A month after ending his Navy stint with a six-month Department of Defense (DoD) fellowship at the venture capital firm Risk and Return, where he helped startups conduct business with the DoD, Young joined Capital One as a third-party management compliance advisor. His Navy career had been as varied as it was long, including stints in Japan, Korea, and Afghanistan, as well as turns in the Pentagon in the Office of the Chief of Naval Operations and as chief of staff in the Navy Department's Chief Management Office, as well as a year as the Secretary of Defense Executive Fellow at Deutsche Bank, where he was first exposed to cybersecurity in the private sector.
Young chose the MSCRS program precisely because of its dual faculty and administration, from both NYU's School of Law and the NYU Tandon School of Engineering. "As a career risk manager, I needed to learn the network engineering aspect and the judicial process in the privacy law challenges that we are encountering today," he said.
Halfway through the program, Young said his expectations have been more than validated. "The program's significant strength is the team at NYU MSCRS: far-reaching, resourceful professors who have been in the field for decades, the program team, who are very supportive—and even more important, my talented classmates representing America's leading companies."
Cybersecurity for the Private Sector
As Young's studies progress, the military veteran's perspective on cybersecurity in the modern warfare context is evolving along with his private sector skills. "The cyber arms race is alarming, but it's mutually assured destruction. That makes us focus more on the periphery and the need for a private-public partnership to grow capacity and capabilities. For my first assignment at NYU, I researched the NotPetya incident, a state-sponsored cyberattack in 2017 that impacted hundreds of companies worldwide at $10 billion-plus in cost. It certainly begs the question of evaluating the traditional procurement method and how we employ our modern forces to prevent, detect, and respond to cyberattacks on our critical infrastructure. Based on my experience and what I've learned, I would continue to promote private cyber-military contractors to offset some of the responsibilities protecting our national security."