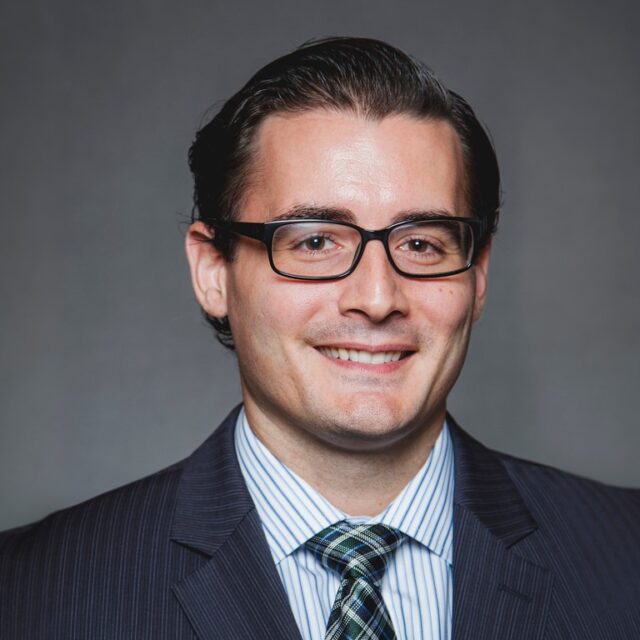 Michael Fitzpatrick
Chief Privacy Officer , City of New York
United States DHS Data Privacy and Integrity Advisory Committee
Class of 2019
"The MSCRS program provided me with a foundation of knowledge to establish and maintain collaboration and coordination between agency legal and technology experts.  I am equipped with the tools to execute on high-level responsibilities and serve as a reliable leader who can navigate between different interests and offices."
In Spring 2022, Michael Fitzpatrick was appointed Chief Privacy Officer (CPO) of the City of New York (NYC). As CPO, Michael leads the Office of Information Privacy (OIP) within the Office of Technology and Innovation (OTI). Michael was also recently appointed to serve a three-year term on the US Department of Homeland Security's (DHS) Data Privacy and Integrity Advisory Committee (DPIAC).
First Accepted to the Inaugural NYU MSCRS Class
Michael, who happens to be the first person accepted into the inaugural NYU Master's of Cybersecurity Risk and Strategy class after the program began taking applications in 2017, doesn't hesitate to describe the expertise he gained in the program as a key element in his professional achievements. "The MSCRS program provided me with a foundation of knowledge to establish and maintain collaboration and coordination between agency legal and technology experts. I am equipped with the tools to execute on high-level responsibilities and serve as a reliable leader who can navigate between different interests and offices."
Career Growth From the MS in Cybersecurity Risk and Strategy Program
While attending the MSCRS program, Michael was an Agency Attorney for the New York City Police Department (NYPD) and responsible for advising complex criminal and counterterrorism investigations conducted by the Department's Intelligence Bureau. After receiving his MS, Michael accepted a new position within the NYPD and was appointed as its Agency Privacy Officer (APO).
While serving as NYPD APO, Michael applied to DHS to serve on the DPIAC, which was seeking individuals working in local government, among others. As a member of the DPIAC, Michael will be providing advice to the DHS Secretary and Chief Privacy Officer on programmatic, policy, operational, administrative, and technological issues within DHS that relate to personally identifiable information, as well as data integrity and other privacy-related matters.
In his new role as CPO, Michael not only advises the Mayor and other senior officials on privacy policy and helps promulgate citywide policies and protocols regarding identifying information and data sharing, he and his team train and counsel the 175+ Agency Privacy Officers in New York City. "Privacy as a discipline in practice is still relatively new, so as we set out to keep New York City a leader in this field, we are constantly working to stay ahead of and be prepared for the next challenge," he explained. "As technology both spreads and evolves, there is a challenge to stay nimble as a large city to address the needs of New Yorkers while protecting privacy in new landscapes."
Michael added: "The cybersecurity knowledge obtained by participating in the MSCRS program has allowed me to effectively communicate with cybersecurity and technology experts and counsel in furtherance of privacy protection. This has enhanced my understanding of risk prevention and response, as well as furthered my ability to serve as a privacy leader for New York City."
Recent news