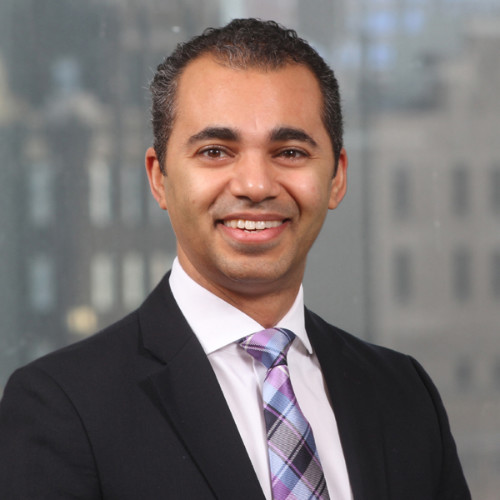 Khalil Jackson
CISO , Federal Reserve Bank of New York
Veteran: US Army
Class of 2019
"The MS CRS program could not come at a better time to serve executives across the US and the globe." 
See HERE to learn more about Khalil's MS CRS capstone experience.
An Art to the Design of Cyber Security Systems
If there's an art to the design of cyber security systems, Khalil Jackson's background as a jazz musician may give him a grace note or two of insight in his former role as senior vice president of application and architecture security at Bank of America. In that role, Khalil (MS CRS '19) was responsible for providing standards, baselines, and reference architecture for building and integrating secure technology platforms across the bank. His brief also included talent development and management.
An auto-didact in computer technology, Khalil paid his dues climbing the ranks at an investment bank in technical leadership roles. "With hindsight," he says, "I now realize that my musical background serves me well to look at creative solutions to the technical problems I've encountered during my more than 20-year career in computer technology."
Coming from the technical side, Khalil sought out the MS CRS program with the aim of acquiring familiarity with the legal and policy aspects of cybersecurity. "It is more important than ever to ensure that we have leaders who have skills and knowledge in both technical and legal fields of expertise," he says. "The CRS program allows me to work closely with staff, faculty, and students from a wide range of professional backgrounds,  helping me to round out my expertise."
An Understanding of Cybersecurity's Role in Today's World
Khalil's understanding of cybersecurity's critical role in today's world is amplified through his experience as an officer in the US Army, which he joined on a leave of absence from Wall Street nearly a decade ago. With two deployments to Afghanistan under his belt, he continues to serve stateside, actively contributing to various national security initiatives at a strategic and tactical level. The experience continues to inform his multilayered perspective in several ways. For one, Khalil feels strongly that he is duty-bound to develop talent who integrate a cybersecurity mindset from the outset and that this mission is a national priority.
Stay Ahead of Tomorrow's Cybersecurity Challenges and Opportunities
"Both the public and private sector have along way to go to get to where we need to be," he says. "It is critical that our public and private sector leaders recognize, advocate for, and fund the steps necessary to manage the global cybersecurity risk. This means a focus on education and developing a workforce that deliberately includes diverse personal and professional backgrounds. Good leaders must proactively sponsor their rising stars to equip them with the skills they need to stay ahead of tomorrow's cybersecurity challenges and opportunities.
"The global economy makes this a problem that is greater than any one country. From the ransomware hack on the UK healthcare system to the use of social media to influence US elections to the disclosure of personal information by a major credit bureau, there is much to do and understand in the field of cybersecurity. The MS CRS program could not come at a better time to serve executives across the US and the globe."
Interview with Khalil Jackson on new role as Chief Information Security Officer of the Federal Reserve Bank of New York
Q. First, huge new job: please describe it. How is it different from working in the private sector? Are the threats different in any way– e.g., where they're emanating from, what they're after, etc.?
A. Thank you, it is very exciting! My position as Chief Information Security Officer is very interesting, as I am responsible for planning, implementing, and maintaining the information security program for the Bank. I can guarantee you that no two days are alike! The financial services sector is always under threat, and it's very important to invest in a defense strategy and prioritize the need for resources and innovation to get ahead in a very dynamic and increasingly complex landscape. This said, working at the New York Fed adds an extra layer of complexity to my role, as we find ourselves in a leadership position to proactively work with colleagues across the financial sector at all levels. Due to the unique nature of our mission to support a healthy US economy and ensure the financial system is more stable for all segments of society, we have an additional duty to share best cybersecurity practices across the board and provide thought leadership on issues that impact the nation and the communities we serve.
Q. Now that you've been out of the program and putting what you learned into practice, we'd love to hear your views on it. How has it been most helpful in your day-to-day? How about in the larger picture, as you assess your organization's cyber preparedness and design updated systems?
A. The program afforded me the opportunity to deeply understand the multiple professional disciplines that come into play when designing and implementing a well-rounded cybersecurity strategy for any organization. This may sound deceivingly simple, but the reality is that in my position it's important to have a holistic view of the needs and motivations of the decision-makers that come into play as we establish policies, rules, and regulations. Bringing together key leaders across attorneys, law enforcement, policy and risk experts, and cybersecurity experts, who represent different perspectives of leading an organization, enriches the diversity of thought and strategic approaches.
I find that the MSCRS's curriculum offers leaders at the executive level a chance to close that gap in three ways. First, by exposing students to policy legislation, technology, governance risk, and strategy risk as key components of the delivery process of cybersecurity solutions for the customer and the community. Second, by anchoring what we do to the mission of the organization we serve by understanding its unique context, as successful cybersecurity strategies never operate in a vacuum. And third, by providing a common lexicon to effectively collaborate with these very different, yet vital areas of expertise.
Q. If you were to suggest changes in the program, what would you say?
A. In the near future, I think it will be really important to invest in creating a collaborative space to engage with the next generation of leaders, in which the diversity of thought, backgrounds, and interests is celebrated and encouraged. I think this program has the potential to start a strong Community of Practice that helps shape the common language I was referring to previously. I can see the value in having a forum that brings together policy experts, attorneys, risk experts, cyber experts, and the next generation to talk to each other and hear different perspectives.
Q. What did you gain from the MSCRS program — its ROI, if you will? Was it helpful in advancing your career, e.g., in moving up to a more senior position?
A. I think this ties very nicely with the first question. This program has helped me become a multi-faceted professional with a well-rounded knowledge of the multiple disciplines that come into play, understanding technology as a vehicle and as a business to deliver what we need for the customer and the community. The program has also given me that common language that serves as a baseline for establishing a solid cybersecurity strategy across any organization. As I move into more senior positions, I realize that great leaders are diverse in thought, which is a core tenet of the MSCRS program that has continued to stick with me.
NYU Law School participates in the Yellow Ribbon program, contributing the maximum amount in benefits to be matched by the Veterans Administration for eligible veterans.