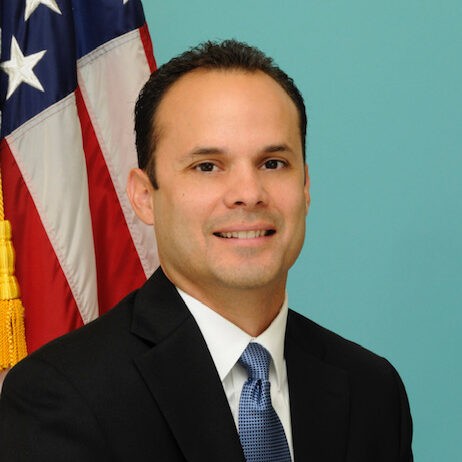 Tenoch Aguilar
Deputy Legal Attaché , FBI
Class of 2022
"NYU's MSCRS program has greatly exceeded my expectations. The caliber of professors is exactly what I expected of NYU, but what I'm more surprised and impressed with is the caliber of students in our cohort. I have learned as much from the cohort as I have from the professors."
Tenoch currently serves as one of two FBI Deputy Legal Attachés in Mexico City with oversight over multiple FBI programs and personnel operating within Mexico. Tenoch has been with the FBI since 1999 and a special agent since 2004. He has held a variety of leadership positions during his FBI career and has most recently served as a supervisory special agent on the San Diego FBI's Joint Terrorism Task Force.
Enhancing Cyber Security Knowledge
While Tenoch points out the most important traits for a successful FBI special agent are collaboration, judgment, initiative, and adaptability, he also acknowledges computer science expertise is a definite advantage in today's threat environment. His personal desire to enhance his knowledge base in the cyber security landscape will also increase his investigative acumen while he manages all FBI programs in Mexico – to include cyber threats.
"In all my years in the FBI, I've seen priorities shift within our agency to address the most significant threats to national security. In the latter part of my career, I was consistently hearing more and more about cyber threats, and felt I didn't know enough about this evolving threat. I knew I wanted to learn about cybersecurity, but I didn't want my lack of a technical background to discourage me from what I knew would be a steep learning curve. I sought a cybersecurity program that could provide a solid technical foundation, along with an overview of the complexities of cybersecurity issues that would help me address the enormous, pervasive issue of cybersecurity threats. I also desired a diverse cohort that could collectively possess, and offer insights into, the legal, technological, and policy realities of a complex system of systems.
"NYU's MSCRS program has greatly exceeded my expectations. The caliber of professors is exactly what I expected of NYU, but what I'm more surprised and impressed with is the caliber of students in our cohort. I have learned as much from the cohort as I have from the professors. For instance, I hadn't considered the outsized vulnerability introduced by small firms treating their cybersecurity as a lower economic priority, but my cohort worked to put that issue into context."
FBI Collaborating with Private Sector
That perspective augments Tenoch's understanding of the threats faced specifically by business, which have merited a specific focus by the agency. "Private sector collaboration is so vital to addressing cybercrime that the FBI implemented an Office of Private Sector to oversee the FBI's collaboration with private industry on the threats they encounter." Threats from cyber criminals can be found in criminal organizations, transnational organized crime groups, and nation-state actors against critical US infrastructure, proprietary corporate information, and cutting-edge research, he pointed out.
"I wanted to join a program that aligned with my goals as a leader in my organization, which included acquiring a deeper understanding of these complex issues. To gain that level of understanding, I knew I needed advanced training. The depth of instruction, connectivity, insight, and creativity offered by NYU's MSCRS program is unmatched."