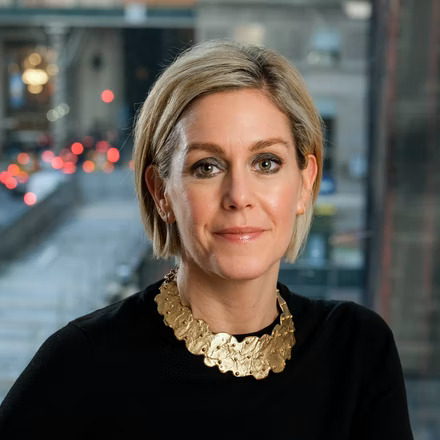 Courtney Adante
President , Teneo Risk Advisory
Class of 2022
"Coming out of the MSCRS program…I hope to establish a niche area of expertise that becomes my platform of thought leadership when advising clients.  I've already seen the benefits, given the access to our leading subject matter experts and professors… And even more importantly, the talented individuals in my cohort this year have been not only a wealth of information, but have become my friends."
As president of Teneo Risk Advisory, Adante operates in a boundaryless world where cybersecurity is an ever-present threat to her clients. With certificates in artificial intelligence and cybersecurity risk management from MIT Sloan School and Harvard, respectively, she realized that such a constantly evolving environment demanded constantly expanding perspectives.
Cybersecurity Risk Management is Integral for Business Leaders
Adante described her motivation to go to back to school: "I decided to pursue the MSCRS degree at NYU Law after it became abundantly clear that the issue of cybersecurity risk management is not only here to stay, but is becoming an integral piece of the puzzle for today's business leaders – not just the CISO or CIO. With my role, advising the executives of major corporations on matters of business resilience, I knew that it was time that I brought something to the table that was differentiated and focused on cybersecurity from a governance and strategy perspective. This program, while it does have technical subject matter, provides coursework that contemplates private sector risk mitigation, regulation, privacy law, geopolitical risk, and the role of the private sector in working with global governments to combat cybercrime. Each of those elements is top of mind with C-suite executives, no matter the sector. As we slowly recover from the global public health pandemic, we are faced with a new pandemic of cybersecurity threats."
Help Optimize Strategy and Spend in Cybersecurity
As a consultant to many global corporations, Adante pointed out that Teneo Risk Advisory has a unique window into the "extraordinarily important" geopolitical topics surrounding cybersecurity that its clients face. "Some have a footprint in countries which have been classified as foreign adversaries of the US. Helping clients navigate those issues is complicated—particularly when a client is considered 'critical infrastructure' and is the target of an attack by such a foreign adversary. We have clients across a range of industries such as banking, energy, food and agriculture, and oil and gas—what happens if they, in some instances designated as core to our nation's critical infrastructure, are attacked by a nation-state actor from a country where they also have business operations? And what if the US government response is to impose tighter restrictions or sanctions on that country? Alternatively, the global state of privacy law poses challenges for clients with operations across a range of geographies. Helping them keep up with that and a complex technology operating environment can feel overwhelming, and cybersecurity risk mitigation can also be seen as restrictive to growing the business. It has been my job and that of my team to help clients optimize strategy and spend in cybersecurity so that as a program, it is perceived as a useful set of tools and frankly, a mindset of intelligence, protection for the operations, data, people, and reputation of the company, and as a business growth enabler."
Given the worsening threat environment, the MSCRS curriculum equips students with a robust understanding of the issues. "Coming out of the MSCRS program, and especially through the program-duration capstone team project, I hope to establish a niche area of expertise that becomes my platform of thought leadership when advising clients. I've already seen the benefits, given the access to our leading subject matter experts and professors, the outside advisors and speakers who have provided us unique insights into current developments on the legal and regulatory front, and the latest in cybercrime from the vantage point of law enforcement. And even more importantly, the talented individuals in my cohort this year have been not only a wealth of information, but have become my friends."
Attending a year-long program on top of a full-time day job that demands travel hasn't been a problem. "As a consultant, I find the program well-suited to my needs. First, the pace of the coursework and the content lends itself well to nights and weekends study, and the evening classes and webinars are scheduled in such a way that I have really no issues making it all work around my schedule, whether I am at home or traveling for work during the week.
"Second, the coursework, for me, directly translates to the conversations I'm having with clients and the issues they are grappling with day to day. There have been multiple times during the first semester that I quoted from reading assignments, research, and position papers I wrote for the classes such as Cyber Crime and Governance and Regulation while in meetings with clients. I am confident that the 'of the moment' content we learn and critical thinking required for the coursework. research projects and class discussion had a direct impact on my ability to elevate my cybersecurity advisory with clients!"