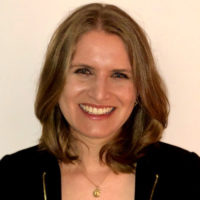 Melanie Gersten
Director , Mastercard
Class of 2019
"The future of cybersecurity leadership is also about training strategic thinkers who can recognize the gaps between specialties and are able to connect the dots."
When Melanie Gersten (MS CRS '19) graduated from Johns Hopkins University with a BA in psychology and a focus on social psychology, little did she expect she would find herself working in cybersecurity or sitting onsite at the National Cyber-Forensics & Training Alliance (NCFTA) as a representative for Mastercard. In her day job as a manager on the Mastercard Account Data Compromise team, she oversees global investigations and merchant data breaches involving the theft and potential compromise of customer account data – in other words, she prevents hackers from stealing accounts and committing fraud. But to Melanie, it all makes perfect sense: "In cybersecurity, the'human element' is the key to prevention."
An Organization's People are the Weakest Link in Security
An education in psychology and human behavior sharpens one's ability to anticipate the methods criminals may use to take advantage of unwitting victims, Melanie argues. It also helps one identify risks and educate others on best practices: "Experts often say that people are an organization's weakest link when it comes to security," she points out.
Didn't Need an Advanced Technical Background
Melanie's passion for cybersecurity and eagerness to advance her knowledge in the field led her to the MS CRS program at NYU Law. "NYU offered a program that didn't require an advanced technical background. They also offered a program that allowed me to enroll part-time, so as to not have to step away from my career and miss out on the rapidly changing world of cybersecurity."
Perhaps the unique and most valuable aspect of the MS CRS program is its dual-school approach, Melanie says. For one thing, the different perspectives that engineering and law professors bring to class enlarge the universe of cybersecurity challenges and solutions. "But it's the invaluable interactions with classmates, who have such diverse background and a wealth of knowledge on different areas in the space, that really contribute to the level of learning and the depth of the discussions," she adds.
The Future of Cybersecurity Leadership
Melanie's experience at Mastercard and the NCFTA underscores the importance of peer-to-peer interaction in teaching best practices for fraud detection and prevention. The NCFTA is a nonprofit partnership between private industry, government, and academia for the purpose of providing a neutral environment for collaboration to identify, mitigate, and disrupt cyber-crime. "Success is no longer strictly about specialists," Melanie says. "The future of cybersecurity leadership is also about training strategic thinkers who can recognize the gaps between specialties and are able to connect the dots. The blended learning approach of the MS CRS program really drives this home."