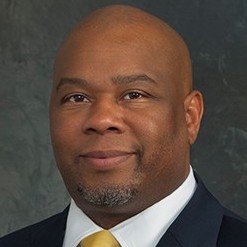 James Wilkinson
Head of Disaster Recovery , Mitsubishi UFJ Financial Group (MUFG Bank)
Veteran: US Army & US Marines
Class of 2021
"Cybersecurity is a challenge that is hard to tame and place neatly in an enterprise box."
The aphorism "the more you learn, the more there is to learn" has held tried and true throughout James Wilkinson's cybersecurity career. James has taken on an impressive array of cyber-related jobs in diverse industries.
James started his engagement with cyber in the US Marine Corps, progressing to the US Army Special Operations Command Central. He then spent a year as an Executive IT Fellow at Microsoft, and moved on to the US Cyber Command before becoming CIO for the F-35 program at Lockheed Martin. James most recently became Head of Third-Party Application Engagement at MUFG Bank
Cybersecurity Knowledge to Drive Business Strategy, Culture and Outcomes
Despite James' deep involvement in many aspects of cybersecurity along the way, he identified the MSCRS program as the factor that could advance his expertise and career.  "As a leader, I have to guide my organization through critical aspects of cybersecurity to ensure positive momentum relevance, security, and profitability," he said. "I was looking to gain a deeper understanding of risk and strategy at the intersection of technology, law, and policies; very few programs offer this approach.  The knowledge and perspectives I gain through the MSCRS program will enable me to integrate all three elements in order to drive business strategy, culture, and outcomes."
Cybersecurity Professors Are Also Practitioners
One of the most appealing elements of the program, James said, is that it features top-rated professors who are also practitioners in the legal and cybersecurity space. "When you have the former CIO of a major telecommunications company and the former Chief Counsel for a leading technology company as faculty members, the participants are going to gain meaningful context and historical perspectives that really add value to the learning proposition. It was important to me that I have access to more than just theory, but to the current business practices as well."
Now that he's a year into the program, James remarked that the quality of the faculty is rivalled only by the breadth of professional experience and expertise of his classmates. "There is real value in the depth of experience of my classmates –they hail from diverse industries and bring experience that you really learn from.  We all benefit from the opportunity to share best practices across industries and functions."
Whatever their backgrounds, he and his peers share many of the same cybersecurity challenges, he notes: "Cybersecurity is a challenge that is hard to tame and place neatly in an enterprise box. Companies must balance ever-changing technologies and increased cyber functionality against budget constraints and legal requirements. Deploying and managing enterprise cybersecurity involves complex coordination across a range of areas – from awareness and education of personnel, to defense tools and driving the evolution of strategy from perimeter security to a zero-trust model."
The public sector faces similar problems and threats, he said, but with added constraints. "For most government agencies, this disruption is magnified due to the rigidity of budget cycles, intense competition for limited funds, and the lack properly trained professionals– this causes government in general to lack the responsiveness and agility of US industry. Progress in the US relies on reducing complexity and simplifying public-private partnership to strengthen more comprehensive security practices."
In his current role at MUFG Bank, James is primarily concerned with internal administration and customer engagement to facilitate understanding of the technology that enables the business to flow through its tactical objectives to meet strategic goals. His cyber experience in the military and at Fortune 500 firms enables him "to provide a hands-on approach to data analysis and synthesis to formulate insightful recommendations that support decision-making at the senior executive level". James looks forward to synthesizing his diverse professional experience with his MS CRS studies: "Completing the MSCRS program will expand my professional education in regulatory compliance, privacy and cybersecurity."
NYU Law School participates in the Yellow Ribbon program, contributing the maximum amount in benefits to be matched by the Veterans Administration for eligible veterans.